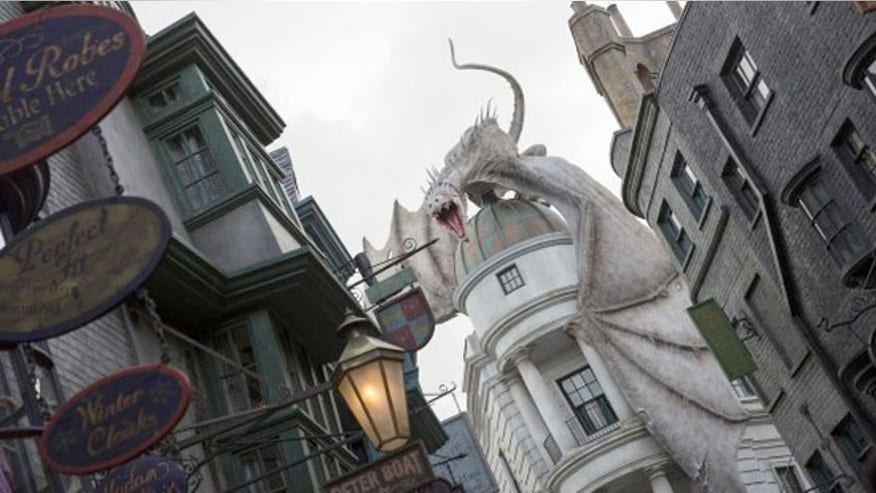 Harry Potter has been a favorite story for children, teenagers and adults since the initial release of "The Sorcerer's Stone" in 2001. The story captivated all of those who watched and wondered what was next for Harry and his friends. Now, Universal Studios in Florida has brought to life the story of Harry Potter with Diagon Alley, the same Diagon Alley that is featured in the story. Here, visitors can shop the various stores and eat at the same restaurants as Harry and his friends did while they attended Hogwarts. The entire family will enjoy this attraction and all that it has to offer.
Ollivanders: Makers of Find Wants since 382 BC
This magical store was where Harry and his friends bought their infamous wands. The same wands that cast the spells and helped keep them safe throughout their adventures. Now, visitors to Universal Studios can own their own magical (interactive) wand that will cast spells and create magical experiences throughout Diagon Alley. What was once just a dream in a movie, is now a reality and a Universal Studios Orlando vacation makes it all possible.
Magical Menagerie
The Magical Menagerie is the same store in which Harry and his friends purchased their magical friends. Owls, toads and unicorns were just a few of the creatures that this store would sell to the children as they headed off to Hogwarts School of Magic. While the store cannot sell "real" unicorns and owls, they do offer a plethora of plush creatures that includes Crookshanks, Fluffy and Scabbers. Of course, you can also find the now infamous Pigwidgeon and Hedwig as well.
Weasleys' Wizard Wheezes
Diagon Alley would not be complete without the newest addition in the Harry Potter series, "
Weasleys' Wizard Wheezes
." This is of course the store that was opened by the Weasley twins which sells various mischief materials. Extendable ears and love potions are just a couple of the things visitors can purchase at this store managed completely by mischief.
Borgin and Burke's
Diagon Alley is not all mischief and fairy tales, there is a dark side to it too. Borgin and Burke's is the most notable black market store in the series where the darkest characters would find their needs for their most sinister spells. Now, visitors can find dark arts souvenirs, death eater masks and replicas of various parts of the series. This shop is a favorite for visitors to purchase various collectibles from the intriguing series.
Leaky Cauldron
What is an attraction like Diagon Alley without the Leaky Cauldron? Here, visitors can feast at the same pub-style restaurant featured in the books and movies. While there is no magical treats to be found here, visitors will enjoy a British traditional menu including fish and chips, butter beer and cottage pie. Lunch and dinner is served here daily.
Gringotts
Just like in the movies,
Gringotts
is located at the very end of Diagon Alley. This bank that is run by goblins is a 3-D thrill ride where visitors must get through the security throughout the underground vaults. Harry and his friends are there to help guide the visitors through the adventure but they must be aware of threats like Voldemort and Bellatrix. They will also be met by various trolls and other magical creatures that will try and keep them from returning safely to Diagon Alley.
Diagon Alley at Universal Studios is a place where visitors will find something for everyone. From the faint of heart to the thrill seeker, the hungry and the thirsty, everyone will enjoy Diagon Alley in the Wizarding World of Harry Potter and Diagon Alley.